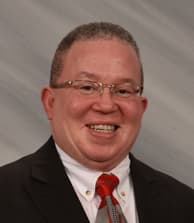 Additional Patient Reviews
To view more patient reviews and ratings for Dr. Malone, please click below.
Ankle, Back, Elbow, Foot, Hand, Hip, Knee, Neck, Shoulder, Spine, Sports Injuries, Trauma, Wrist, Workers' Compensation Injuries
Dr. K. Scott Malone is a Warner Robins native and board-certified physiatrist, also known as a physical medicine and rehabilitation doctor, who specializes in the nonsurgical treatment of sports-related acute and chronic injuries and conditions.
Before joining Middle Georgia Orthopaedics, Dr. Malone served as a team physician for the Tampa Bay Devil Rays, Green Bay Packers, Berlin Thunder (NBA Developmental League), World Wrestling Federation, Macon Whoopee, and Birmingham Bulls along with Grambling State University, Troy State University, and Auburn University. He also developed the sports medicine program for all Houston County High Schools and is passionate about mentoring young athletes.
Dr. Malone was named one of the "Top Physicians in America" by the Consumers Research Council in 2003. He was also the National Medical Association's "Practitioner of the Year" in 2004 and received the Golden Eagle Award in June of 2016.
Outside of his physiatry practice, Dr. Malone enjoys fishing, collecting classic cars, and is a lifetime member of the National Eagle Scout Association. An active member of the community, he is also on the board of directors for the Georgia Sports Hall of Fame Foundation and the Middle Georgia Community Action Agency.
Patient Reviews

"My experience with Dr. Malone was excellent. He was patient, listened to my concerns, and was very thorough."
About

Education & Training

Bachelor of Science in Biomedical Engineering: The University of Tennessee, Knoxville, Knoxville, TN
Doctor of Medicine: East Tennessee State University Quillen College of Medicine, Johnson City, TN
Internal Medicine Internship: East Tennessee State University Quillen College of Medicine, Johnson City, TN
Physical Medicine and Rehabilitation Residency: University of Arkansas for Medical Sciences, Little Rock, AR
Sports Medicine Fellowship: American Sports Medicine Institute, Birmingham, AL

Certifications

Board Certification: American Board of Physical Medicine and Rehabilitation

Professional Associations

American Academy of Medical Entrepreneurs, Founding Member
American Academy of Disability Evaluating Physicians, Fellow
American Academy of Physical Medicine and Rehabilitation
American Association of Orthopaedic Medicine
American Medical Association
American Sports Medicine Institute Fellowship Society
Georgia Athletic and Entertainment Commission
Georgia State Board of Athletic Trainers

Team Affiliations

Fort Valley State University
Houston County High Schools

Hospital Affiliations

Houston Healthcare Complex
Locations
News