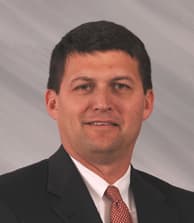 Additional Patient Reviews
To view more patient reviews and ratings for Dr. Easom, please click below.
Knee, Shoulder, Sports Injuries, Hand, Wrist, Ankle, Elbow, Foot, Joint Replacement & Revision, Hip, Trauma
Dr. Jeffrey C. Easom, a Georgia native, is a board-certified and fellowship-trained orthopaedic surgeon. He employs both conservative and surgical treatment for musculoskeletal injuries and conditions and specializes in arthroscopic surgery of the shoulder, knee, wrist, and ankle, and also provides general orthopaedic care.
At Michigan State University College of Osteopathic Medicine, he served as chief resident and clinical instructor in orthopaedic surgery. As part of his sports medicine and arthroscopy fellowship, Dr. Easom served on the medical team for the Washington Redskins. He has also been published in the Journal of the American Osteopathic Academy of Orthopaedics.
Dr. Easom enjoys quail hunting, fishing, golf, family activities, and watching college football when he is not treating patients.
Patient Reviews

"Am in absolute awe with the doctors I have seen! I have also been recognized by Dr. Wiley. The two of them will be doing my shoulder replacement on Dec 05, 2018. The staff is more than gracious & are privy to a natural graciousness that few are born with! All of the team you employ have that God-given talent. I have been & know that my doctor's natural ability is deserving of all the word-of-mouth advertising that I can pass on. I have felt comfortable with the doctors & staff since day one! I have complete trust & faith in my doctors! Happy holidays!"
About

Education & Training

Bachelor of Science in Pharmacy: The University of Georgia, Athens, GA
Doctor of Osteopathic Medicine: West Virginia School of Osteopathic Medicine, Lewisburg, WV
Transitional Internship: Columbus Regional Medical Center, Columbus, GA
Orthopaedic Surgery Residency: Michigan State University – Garden City Hospital, Garden City, MI
Sports Medicine and Arthroscopy Fellowship: Orthopaedic Research of Virginia, Richmond, VA

Certifications

Board Certification: American Osteopathic Board of Orthopaedic Surgery

Professional Associations

American Medical Association
American Osteopathic Academy of Orthopedics
American Osteopathic Association
Arthroscopy Association of North America
Georgia Orthopaedic Society

Hospital Affiliations

Houston Medical Center
Perry Hospital
Houston Orthopedic Surgery Center
Locations

Telephone:

(478) 953-4563

Telephone:

(478) 953-4563