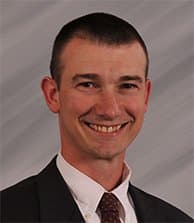 Additional Patient Reviews
To view more patient reviews and ratings for Dr. Wiley, please click below.
Sports Injuries, Joint Replacement, Shoulder, Trauma, Knee, Hip, Ankle, Elbow, Foot, Hand
Dr. William B. Wiley is a board-certified and fellowship-trained orthopaedic surgeon, specializing in upper and lower extremity arthroscopic procedures and total joint replacement and revision, as well as the nonsurgical treatment of orthopaedic conditions and injuries.
Prior to joining Middle Georgia Orthopaedics, Dr. Wiley was a clinical instructor in orthopaedic surgery at Northeast Ohio Medical University and served as team physician for the Stow High School Football Team.
He has given numerous presentations at professional meetings and has been published in Journal of Shoulder and Elbow Surgery, Spine, and Journal of Arthroscopy. Click here to see other articles and publications by Dr. Wiley.
When he is not seeing patients, Dr. Wiley enjoys attending church, gardening, fishing, and going on medical missions.
Patient Reviews

"My experience was good. I didn't have to wait long. I called and got my appointment on the same day."
About

Education & Training

Bachelor of Arts in Chemistry and Biology: Asbury University, Wilmore, KY
Doctor of Medicine: Northeast Ohio Medical University, Rootstown, OH
Orthopaedic Residency: Summa Health System, Akron, OH
Sports Medicine and Arthroscopy Fellowship: Orthopaedic Research of Virginia, Richmond, VA

Certifications

Board Certification: American Board of Orthopaedic Surgery
Subspecialty Certificate in Orthopaedic Sports Medicine: American Board of Orthopaedic Surgery

Professional Associations

American Academy of Orthopaedic Surgeons
American Orthopaedic Society of Sports Medicine
Arthroscopy Association of North America
Christian Medical and Dental Association
Georgia Orthopaedic Society
Medical Association of Georgia
Mercer University School of Medicine, Associate Clinical Faculty

Team Affiliations

Fort Valley State University
Middle Georgia State University
Middle Georgia Technical College
Houston County High School
Perry High School
Northside High School
Veteran's High School
Warner Robins High School

Hospital Affiliations

Houston Medical Center
Perry Hospital
The Medical Center of Peach County
Coliseum Medical Center
Coliseum Northside Hospital
Locations

Telephone:

(478) 953-4563

Telephone:

(478) 953-4563