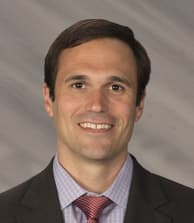 Additional Patient Reviews
To view more patient reviews and ratings for Dr. Harris, please click below.
Elbow, Hand, Hip, Joint Replacement, Knee, Shoulder, Trauma, Wrist
Dr. Jonathan Harris is an orthopaedic surgeon specializing in the surgical and nonsurgical treatment of the hip, knee, shoulder, hand, wrist, and elbow as well as joint replacement and trauma care.
After receiving his undergraduate degree from the University of Georgia in Athens, Georgia, Dr. Harris earned his medical degree from Augusta University Medical College of Georgia in Augusta, Georgia. He completed his orthopaedic surgery residency at Indiana University School of Medicine in Indianapolis, Indiana, where he received extensive training in arthroscopic surgery, orthopaedic trauma care, and joint replacement.
Dr. Harris is a Georgia native. When he is not seeing patients, Dr. Harris enjoys staying active and spending time with his family as well as playing guitar, traveling, and motorcycling.
Patient Reviews

"Dr. Harris is the ultimate professional in every way. He recently performed surgery on my wife's Achilles, and she was 100% satisfied with the results and his expertise. Now that I have knee issues, I wouldn't want anyone other than Dr. Harris to perform the surgery. Why gamble with anyone else?"
About

Education & Training

Bachelor of Science in Biology: University of Georgia, Athens, GA
Doctor of Medicine: Augusta University Medical College of Georgia, Augusta, GA
Orthopaedic Surgery Residency: Indiana University School of Medicine, Indianpolis, IN

Certifications

Board Certification: American Board of Orthopaedic Surgery

Professional Associations

American Medical Association

Hospital Affiliations

Houston Medical Center
Houston Healthcare Perry Hospital
Locations

Telephone:

(478) 953-4563

Telephone:

(478) 953-4563